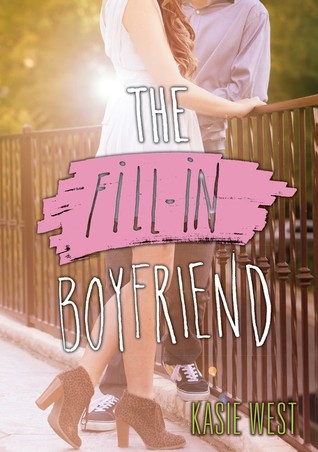 Title:
The Fill-In Boyfriend
Author:
Kasie West
Publisher:
HarperTeen
Release Date:
May 5, 2015
Source:
ALA MW
Summary from Goodreads:
When Gia Montgomery's boyfriend, Bradley, dumps her in the parking lot of her high school prom, she has to think fast. After all, she'd been telling her friends about him for months now. This was supposed to be the night she proved he existed. So when she sees a cute guy waiting to pick up his sister, she enlists his help. The task is simple: be her fill-in boyfriend— two hours, zero commitment, a few white lies. After that, she can win back the real Bradley.

The problem is that days after prom, it's not the real Bradley she's thinking about, but the stand-in. The one whose name she doesn't even know. But tracking him down doesn't mean they're done faking a relationship. Gia owes him a favor and his sister intends to see that he collects: his ex-girlfriend's graduation party — three hours, zero commitment, a few white lies.

Just when Gia begins to wonder if she could turn her fake boyfriend into a real one, Bradley comes waltzing back into her life, exposing her lie, and threatening to destroy her friendships and her new-found relationship.
Review
The Fill-In Boyfriend had many of the same characteristics that we have grown to love from Kasie West - a swoony boy and easy-to-root-for romance, a certain easy readability and lots of character growth (among other things). But it was also quite different, at least it felt that way to me. Of all her books, I struggled with the characters the most in this one, but I don't necessarily mean that in a bad way. Although these characters had a good number of flaws and made quite a few mistakes, it was easy to relate to them and it made the ending all the more rewarding.
There is a new girl in Gia's group of friends that is trying to oust Gia and her latest attack is to argue that Gia's new boyfriend is made-up. So when said boyfriend dumps Gia right before he's supposed to meet her friends and prove Gia wasn't lying, Gia gets desperate and grabs a stranger to fill-in for him. Only now Gia
is
lying to her friends and like every lie, one leads to another and soon Gia is in way over her head. This and a few other side-plots made Gia come off as very insecure, shallow and self-absorbed. It was a little frustrating to watch her make some terrible choices, but at the same time, I could understand her panic and why she did what she did.
Meanwhile, her fill-in boyfriend was getting over a relationship of his own, only his ex-girlfriend started dating his best friend. Let's just say there was heartbreak AND trust issues there. To return his favor to her, Gia finds herself pretending to be his girlfriend to make his ex jealous. Only, Gia starts to develop actual feelings for him and is confused over what they have - is it all pretend or is some of it real? The fact that this boy has his own problems to work through doesn't make the answer to that question easy. Every part of Gia's situation was a mess and just got messier. And to make matters worse, Gia didn't have a good family support system to rely on, rather, her family seemed to exacerbate the problem.
Readers definitely had to work for it, but there IS a happy ending. Now, not
all
things were resolved, which had me a little disappointed, but the HEA is there. And Gia and this nameless boy both deserved it. He was SO swoony, my goodness. I loved they way they got along together. And I loved all of the growth they both underwent to reach that point.
Again, this book had a different feel than Kasie West's other books but I didn't mind it. It wasn't as easy a story, but I was still 110% invested and loved reading it. I think other Kasie West fans will feel the same.