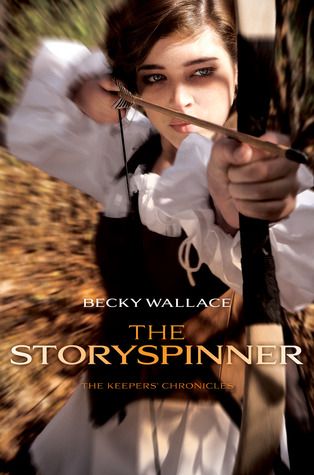 Title:
The Storyspinner
Author:
Becky Wallace
Publisher:
Margaret K. McElderry Books
Release Date:
March 3rd 2015
Summary from Goodreads:
Drama and danger abound in this fantasy realm where dukes play a game for the throne, magical warriors race to find the missing heir, and romance blossoms where it is least expected.

In a world where dukes plot their way to the throne, a Performer's life can get tricky. And in Johanna Von Arlo's case, it can be fatal. Expelled from her troupe after her father's death, Johanna is forced to work for the handsome Lord Rafael DeSilva. Too bad they don't get along. But while Johanna's father's death was deemed an accident, the Keepers aren't so sure.

The Keepers, a race of people with magical abilities, are on a quest to find the princess—the same princess who is supposed to be dead and whose throne the dukes are fighting over. But they aren't the only ones looking for her. And in the wake of their search, murdered girls keep turning up—girls who look exactly like the princess, and exactly like Johanna.

With dukes, Keepers, and a killer all after the princess, Johanna finds herself caught up in political machinations for the throne, threats on her life, and an unexpected romance that could change everything.
Review
The Storyspinner is an intricately weaved story full of action, hints of romance, and crazy world building. I have a tendency to struggle when a book has too many story lines and narrators but Becky Wallace does a seamless job of alternating both the plot lines and the narrators to create a beautifully complex plot.
The romance is gradual, moving at a perfect pace to complement the great character development. Johanna is an awesome female lead, she takes on challenges, takes care of her family, and is ready to fight the world. I love the strong love Johanna has for her family and the love you see from Lord Rafael's family; strong family relationships are not always mentioned so I appreciate when they are! Aside for the romance and the family aspects, there is also a a huge value on teamwork, loyalty, and friendships.
There is such an array of personalities, side plots, and secondary characters each one drawing me further and further into their unique world. I cannot stress how well it all flows together to make this awesome book! There are magical aspects of the story that I cannot wait to learn more about. With that ending though, I am just dying to get my hands on the next book! I highly recommend The Storyspinner, I truly feel like it has something for everyone!