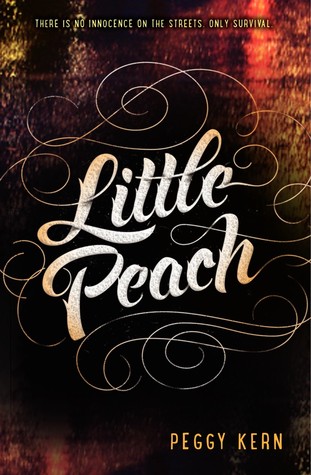 Title:
Little Peach
Author:
Peggy Kern
Publisher:
Balzer & Bray/Harperteen
Release Date:
March 10th 2015
Summary from Goodreads:
What do you do if you're in trouble?

When Michelle runs away from her drug-addicted mother, she has just enough money to make it to New York City, where she hopes to move in with a friend. But once she arrives at the bustling Port Authority, she is confronted with the terrifying truth: she is alone and out of options.

Then she meets Devon, a good-looking, well-dressed guy who emerges from the crowd armed with a kind smile, a place for her to stay, and eyes that seem to understand exactly how she feels.

But Devon is not what he seems to be, and soon Michelle finds herself engulfed in the world of child prostitution where he becomes her "Daddy" and she his "Little Peach." It is a world of impossible choices, where the line between love and abuse, captor and savior, is blurred beyond recognition.

This hauntingly vivid story illustrates the human spirit's indomitable search for home, and one girl's struggle to survive.
Review
Little Peach is so different than anything I have read before. It is a dark, terrifyingly powerful read about the horrible human trafficking problem in the United States. It exposes the vulnerable state individuals can be in and how quickly they become prey.
Little Peach immediately pulls you in, takes grasp of your heart strings, and does not let them go until the last page. Michelle lacks a motherly presence yet is filled with the love and protection of her grandfather. The dynamic between Michelle and her grandfather is heart-warming. Until the worst happens and she is truly on her own.
I had such mixed emotions reading this book, it was hard to get through yet I felt compelled to get to the end of the story, I needed some resolution. It would be too hard to bear without one. This book is definitely not for everyone, it is dark, disturbing at parts and emotionally taxing. It bring to light a topic that is often overlooked or brushed under a rug. If you can handle the brutal journey of a strong young girl thrown into a world of child prostitution, this book will not fail to truly move you.