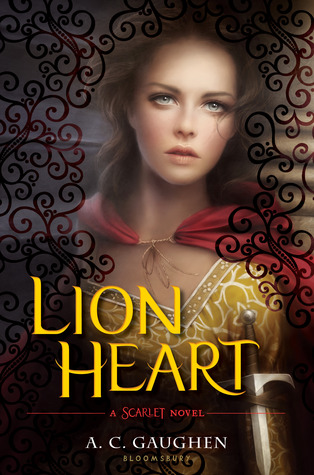 Title:
Lion Heart
Author:
A.C. Gaughen
Series:
Scarlet #3
Publisher:
Bloomsbury USA Childrens
Release Date:
May 19, 2015
Source:
ARC provided by publisher in exchange for an honest review (
thank you Bloomsbury!)
Summary from Goodreads:
Scarlet has captured the hearts of readers as well as the heart of Robin Hood, and after ceaseless obstacles and countless threats, readers will finally find out the fate of the Lady Thief.

Imprisoned by Prince John for months, Scarlet finds herself a long way from Nottinghamshire. After a daring escape from the Prince's clutches, she learns that King Richard's life is in jeopardy, and Eleanor of Aquitaine demands a service Scarlet can't refuse: spy for her and help bring Richard home safe. But fate—and her heart—won't allow her to stay away from Nottinghamshire for long, and together, Scarlet and Rob must stop Prince John from going through with his dark plans for England. They can not rest until he's stopped, but will their love be enough to save them once and for all?
Review
My takeaways from finishing the Scarlet series are the following: 1) A.C. Gaughen is an amazingly talented writer; 2.) it is incredibly bittersweet finishing a favorite series but oh so satisfying when it is well done; and 3) Rob and Scar are the best OTP EVER. Extra emphasis on this last point.
Lion Heart was a wonderful conclusion to the Scarlet series. True to form, it was high stakes, high action and high emotion. Prince John is staging a coup to take the throne for himself and it's up to Rob and Scar to stop him. But Prince John is cunning and ruthless and won't go down without an ugly fight. The ending was a bit abrupt but I loved how everything wrapped up. This series went out with a bang for sure!
I have been yearning for Rob and Scar's Happily Ever After for three years now and it has been one hell of an emotional roller coaster to say the least. It took them forever to admit their feelings to each other and even longer for them to give in to them. And their relationship has been fraught with obstacles and pain. But they finally got everything that they deserved and it had me bursting with happiness. I loved the little moments they shared in this book.
Simply put, I love Lion Heart. I love this series. I love Rob and Scar. This conclusion was everything I had hoped it would be and everyone should read this series!!