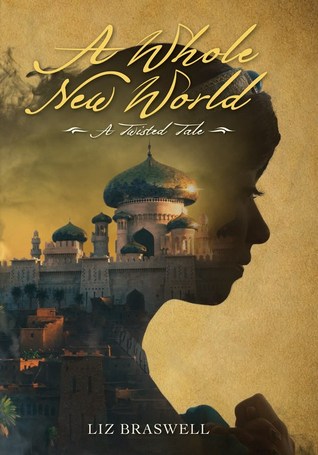 Title:
A Whole New World
Author:
Liz Braswell
Publisher:
Disney Press
Release Date:
September 1st 2015
Source:
eARC from Publisher (
thanks HarperCollins!)
Summary from Goodreads:
Welcome to a new YA series that reimagines classic Disney stories in surprising new ways. Each book asks the question: What if one key moment from a familiar Disney film was changed? This dark and daring version of Aladdin twists the original story with the question: What if Jafar was the first one to summon the Genie?

When Jafar steals the Genie's lamp, he uses his first two wishes to become sultan and the most powerful sorcerer in the world. Agrabah lives in fear, waiting for his third and final wish.To stop the power-mad ruler, Aladdin and the deposed Princess Jasmine must unite the people of Agrabah in rebellion. But soon their fight for freedom threatens to tear the kingdom apart in a costly civil war.

What happens next? A Street Rat becomes a leader. A princess becomes a revolutionary. And readers will never look at the story of Aladdin in the same way again.
Review
A Whole New World takes the classic story of Aladdin and puts an interesting twist on it. It is darker and heavier than the original focusing primarily on Aladdin and Jasmine saving Agrabah from Jafar's tyranny. I was immediately intrigued by the plot since it took such a unique stance. I really needed to know would a happily ever after come from this magic heavy story line.
This was not my favorite retelling, I am a huge genie fan and he plays a very different role in this book. I missed the genie-Aladdin dynamic and the magic carpet's role which carried a lot of the movie's humor. The beginning of the book starts off quite similar to the original then a huge dark cloud comes over Agrabah, a cloud full of war, death, and black magic. The romance plays a secondary role to the war on Jafar, and humor is virtually missing from the entire book.
Once I stopped trying to compare this book to the classic Disney movie, I started to enjoy some of the other aspects of the story. Friendship and teamwork are a critical component in the plots to overthrow Jafar and save the city. Aladdin has a fantastic group of friends with great backstory that help him along the way. Even though the genie belongs to Jafar instead of Aladdin, he is not without his trusty side kick, Abu! A Whole New World was not exactly what I was expecting but it takes different and unsuspecting twists, keeping me on my toes through the whole book.