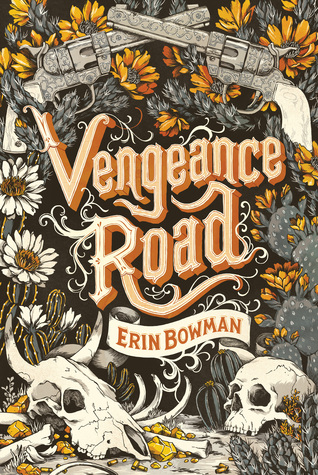 Title:
Vengeance Road
Author:
Erin Bowman
Publisher:
HMH Books for Young Readers
Release Date:
September 1, 2015
Source:
BEA
Summary from Goodreads:
When Kate Thompson's father is killed by the notorious Rose Riders for a mysterious journal that reveals the secret location of a gold mine, the eighteen-year-old disguises herself as a boy and takes to the gritty plains looking for answers and justice. What she finds are devious strangers, dust storms, and a pair of brothers who refuse to quit riding in her shadow. But as Kate gets closer to the secrets about her family, she gets closer to the truth about herself and must decide if there's room for love in a heart so full of hate.

In the spirit of True Grit, the cutthroat days of the Wild West come to life for a new generation.
Review
Hands down, Vengeance Road is going to be one of the most fun books I read this year. Kate was a total spitfire and hell-bent on getting revenge for her father's death even if that put her up against a gang of the meanest and most merciless men out there. She wouldn't back down for nothin'.
Everything about this book was raw and gritty and I loved it. Rarely do we see an MC that seeks to kill and when we do, it's usually accompanied by a crisis of conscience pretty early on. But Kate didn't feel bad about killing the Rose Riders, rather she looked forward to it. Sure, some doubts crept into her mind every now and then, especially when some innocents got stuck in the crossfires but Kate was pretty resolute about her mission and didn't waver until the job was done. It was a bit refreshing to enjoy a good ol' revenge story without too many messy feelings getting in the way if I'm being honest. But if your wondering, despite the coldness in Kate, I still found her to be likable a relatable. Maybe that's because I don't know what I would do if someone where to hurt one of the people I love most dearly... I surely didn't blame her for her actions any.
There was also so many fun pieces to the story. Like Kate pretending to be a boy, which is always a favorite in books. And the mysterious gold trail that the Rose Riders were following, detailed through clues in an old journal. It was like if National Treasure was made into a Western Film. Speaking of which, I LOVED the Western theme to the story. I especially loved the way Kate talked - Bowman used the slang of that time period which I thought was perfect (and had no trouble reading).
My only very minor reservation is concerning the romance. I can't say I really felt whatever formed between Kate and Jesse. They were two of the most stubborn characters ever and were pretty much at each other's throats for most of the story. Their banter was entertaining to watch but to me, it felt more like a bond formed out of convenience or something, not necessarily passion. They were practically the same person, personality wise. I don't know... I didn't hate it in the slightest, I'm just saying that I wouldn't go down with this ship.
So if you like Westerners, revenge stories, treasure hunting, wild MCs and plain old fun, then Vengeance Road is the book for you. It was definitely a memorable one. And it never hurts that the cover is FREAKING AMAZING. So, yeah, read it.