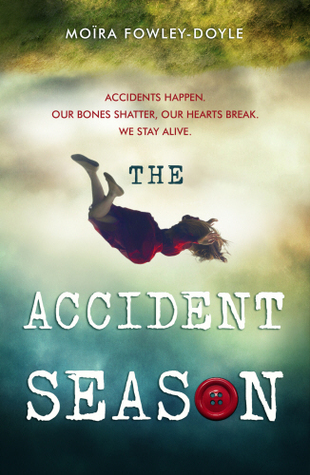 Title:
The Accident Season
Author:
Moïra Fowley-Doyle
Publisher:
Corgi Childrens
Release Date:
August 18, 2015
Source:
BEA
Summary from Goodreads:
It's the accident season, the same time every year. Bones break, skin tears, bruises bloom.

The accident season has been part of seventeen-year-old Cara's life for as long as she can remember. Towards the end of October, foreshadowed by the deaths of many relatives before them, Cara's family becomes inexplicably accident-prone. They banish knives to locked drawers, cover sharp table edges with padding, switch off electrical items - but injuries follow wherever they go, and the accident season becomes an ever-growing obsession and fear.

But why are they so cursed? And how can they break free?
Review
Other than to say that my reading experience was positive, I am struggling to articulate my thoughts on The Accident Season. It was such a unique read and I felt such a strange mix of emotions while reading it that I can't seem to describe it in words. Bear with me wit this one. Your takeaway should be to read this book!
While reading The Accident Season I was restless with curiosity. The Accident Season itself was such a puzzle to me that I couldn't turn the pages fast enough to find out more. And then there was the mystery surrounding Elsie, whom no one really seemed to remember but whose presence was associated with many strange occurrences. I couldn't wait to make sense of her either. And the ending did not disappoint. I was touched by how the story evolved even though it was heartbreaking. This book unexpectedly incorporated some pretty heavy subjects but dealt with them fairly well.
I loved the dynamic between Cara, her siblings, and her best friend. I loved their weirdness and their nonchalance. I loved how they discovered an abandoned home and threw one wicked Halloween party. I'm not sure I loved Cara and her step brother's budding relationship but I didn't entirely mind it either. It was a little disconcerting but understandable and sweet in it's on way.
While reading, I never quite knew what was real and what wasn't but I was completely under Moira Fowley-Doyle's spell. This book was eerie, unusual and unpredictable and I loved it. It is definitely deserving of the praise that it's been receiving.