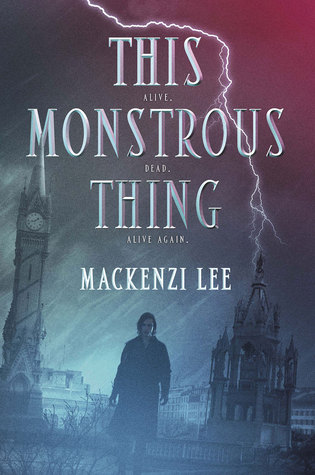 Title:
This Monstrous Thing
Author:
Mackenzi Lee
Publisher:
Katherine Tegen Books
Release Date:
September 22nd 2015
Source:
eARC from Publisher (
thanks HarperCollins!)
Summary from Goodreads:
In 1818 Geneva, men built with clockwork parts live hidden away from society, cared for only by illegal mechanics called Shadow Boys. Two years ago, Shadow Boy Alasdair Finch's life shattered to bits.

His brother, Oliver—dead.

His sweetheart, Mary—gone.

His chance to break free of Geneva—lost.

Heart-broken and desperate, Alasdair does the unthinkable: He brings Oliver back from the dead.

But putting back together a broken life is more difficult than mending bones and adding clockwork pieces. Oliver returns more monster than man, and Alasdair's horror further damages the already troubled relationship.

Then comes the publication of Frankenstein and the city intensifies its search for Shadow Boys, aiming to discover the real life doctor and his monster. Alasdair finds refuge with his idol, the brilliant Dr. Geisler, who may offer him a way to escape the dangerous present and his guilt-ridden past, but at a horrible price only Oliver can pay…
Review
Steam-punk, moody, gothic-ly picturesque.
This Frankenstein re-telling captures the classic from its origin, This Monstrous Thing tells the story that inspired Mary Shelly to write her world famous Frankenstein. The characters in this book parallel the lives of both the creator and the inspiration of the classic novel. The setting was one of my favorite aspects; I loved all the steam-punk technology within a Gothic Europe. I could visualize the dark blues and blacks, cloudy skies, and soot covered buildings.
The technology was a huge area of political unrest. Alasdair is a Shadow Boy, he repairs humans with steam punk body parts. Even though he is helping people, many townspeople believe that to do such a thing would be to go against God's will. There is a moral debate that follows the plot as an under lying theme. Adding a subtle but interesting facet to the story.
The character development was very well done, each character was well rounded with a multi-dimensional personality and moral compass. My one reservation was the pacing of the plot. The plot just seemed to fall flat for me, even though I enjoyed the characters, I did not feel a strong pull towards the actual story and action. I was not jumping to finish it nor did it leave lasting emotions. This Monstrous Thing was engaging enough with some added danger and mystery to make it an enjoyable, middle of the road, read!