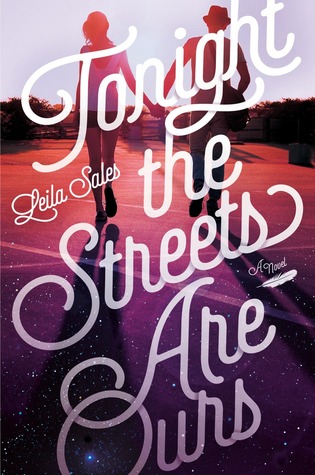 Title:
Tonight the Streets Are Ours
Author:
Leila Sales
Publisher:
Farrar, Straus and Giroux
Release Date:
September 15, 2015
Source:
BEA
Summary from Goodreads:
Seventeen-year-old Arden Huntley is recklessly loyal. Taking care of her loved ones is what gives Arden purpose in her life and makes her feel like she matters. But she's tired of being loyal to people who don't appreciate her—including her needy best friend and her absent mom.

Arden finds comfort in a blog she stumbles upon called "Tonight the Streets Are Ours," the musings of a young New York City writer named Peter. When Peter is dumped by the girlfriend he blogs about, Arden decides to take a road trip to see him.

During one crazy night out in NYC filled with parties, dancing, and music—the type of night when anything can happen, and nearly everything does—Arden discovers that Peter isn't exactly who she thought he was. And maybe she isn't exactly who she thought she was, either.
Review
Tonight the Streets are Ours was a story that was so easy to fall into. It was emotional, honest, heartfelt and packed with food-for-thought and important takeaways. It was incredibly easy to love.
Arden's whole self-identity is wrapped up in this idea of herself as being recklessly loyal. She's there for her friends and family in whatever capacity they need, even if it's at a detriment to herself. But then her life starts to crumble around her, beginning with her mom leaving, and she starts to question how much her love is reciprocated. Posing this question to the world wide web leads Arden to discover Peter who writes Tonight The Streets are Ours, a blog chronicling his life. Peter seems to be struggling with similar feelings. His parents won't support his dream of becoming an author, his brother has run away and no matter how hard he tries, he can't seem to make the girl he loves love him back. Arden gets swept up in Peter's story. So much so, that when her perfectly planned night goes up in flames, she takes off to New York City to find him. However, Arden's expectations and Arden's reality end up being two very different things.
I always love a story within a story and I found myself invested in both Arden and Peter's lives. But most of all, I loved that things didn't turn out as they seemed in more ways than one. There were so many important messages in this book, but the one about there being two sides to a story, was the one that hit home the most. But I also loved the idea that loving someone doesn't necessarily mean sacrificing everything for them and that you have to love yourself too. And I loved that Arden gave up something good in the hope of something better. I could definitely relate to that.
Leila Sales really nailed it again with this one. Arden lived and learned over the course of these pages and I lived and learned with her. I really feel like I am walking away from this book with a better perspective and that is the most I can ask of any book. This is a must read.