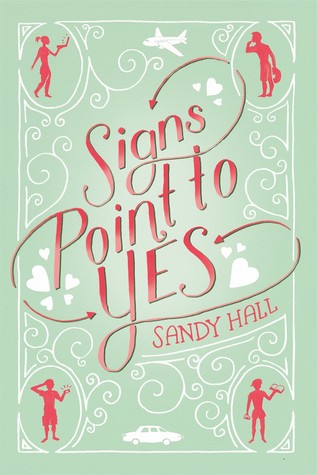 Title:
Signs Point to Yes
Author:
Sandy Hall
Publisher:
Swoon Reads
Release Date:
October 20 2015
Source:
BEA15
Summary from Goodreads:
The author of A Little Something Different brings you the most adorkable romance ever.
Jane, a superstitious fangirl, takes an anonymous babysitting job to avoid an unpaid internship with her college-obsessed mom. The only problem? She's babysitting the siblings of her childhood friend and new crush, Teo.
Teo doesn't dislike Jane, but his best friend Ravi hates her, and is determined to keep them apart. So Teo's pretty sure his plans for a peaceful summer are shot. His only hope is that his intermittent search for his birth father will finally pan out and he'll find a new, less awkward home. Meanwhile, at Jane's house, her sister Margo wants to come out as bisexual, but she's terrified of how her parents will react.
In a summer filled with secrets and questions, even Jane's Magic 8 ball can't give them clear answers, but Signs Point to Yes.
Review
Well, color me surprised. I don't think I could have had a more opposite reaction to two works by the same author. Having LOVED A Little Something Different, I went into Signs Point to Yes with eagerness and an expectation to finish this book feeling just as smitten. However, as you can tell by my rating, that is not what happened.
Signs Point to Yes was, sadly, not what I would consider a strong contemporary. The story itself - the search for Teo's father being a central theme - erred on the side of predictability and even ridiculousness to such an extent that I am actually shocked that I read what I did. As for the characters, they were very much one-dimensional and unmemorable. I found it a little disconcerting that Jane was considered an idiot by almost everyone around her, including herself, and that her character arc involved several moments of "see, you are smart after all!". And when it came to the dialogue, it was in large part, tiresome and uninteresting. The amount of time these characters spent thanking each other is akin to the amount of staring that happens in the Twilight movies.
There were a few cute moments here and there and a small amount of swoons but overall, I was just not impressed by this story. I wasn't really feeling the romance. I thought the overabundance of Magic 8 ball usage was a little childish and outdated. And I was troubled by Jane's relationship with her mother without really getting resolution there. I DID, however, enjoy Jane's relationship with her sister, but even that was not executed to its full potential.
I don't know what happened with this one. I am befuddled and sad. I can see a MUCH younger audience having more success with this one but I don't know how much.
But hugs to Danielle @
Love At First Page
for buddy reading this one with me!