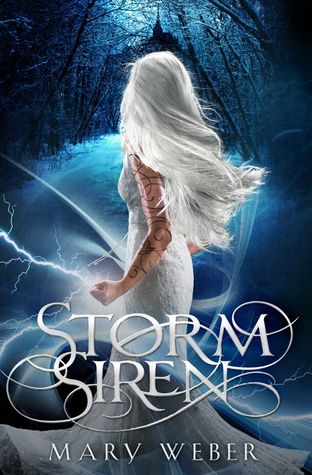 Title:
Storm Siren
Author:
Mary Weber
Series:
The Storm Siren Trilogy #1
Publisher:
Thomas Nelson
Release Date:
August 19, 2014
Source:
Copy provided by Publisher in exchange for an honest review (
thanks Wunderkind PR and HarperCollins!
)
Summary from Goodreads:
"I raise my chin as the buyers stare. Yes. Look. You don't want me. Because, eventually, accidentally, I will destroy you."
In a world at war, a slave girl's lethal curse could become one kingdom's weapon of salvation. If the curse—and the girl—can be controlled.
As a slave in the war-weary kingdom of Faelen, seventeen-year-old Nym isn't merely devoid of rights, her Elemental kind are only born male and always killed at birth — meaning, she shouldn't even exist.
Standing on the auction block beneath smoke-drenched mountains, Nym faces her fifteenth sell. But when her hood is removed and her storm-summoning killing curse revealed, Nym is snatched up by a court advisor and given a choice: be trained as the weapon Faelen needs to win the war, or be killed.
Choosing the former, Nym is unleashed into a world of politics, bizarre parties, and rumors of an evil more sinister than she's being prepared to fight . . . not to mention the handsome trainer whose dark secrets lie behind a mysterious ability to calm every lightning strike she summons.
But what if she doesn't want to be the weapon they've all been waiting for?
Set in a beautifully eclectic world of suspicion, super abilities, and monsters, Storm Siren is a story of power. And whoever controls that power will win.
Review
Umm, why aren't more people talking about this book? Because this book, my friends, is amazing. And it has everything - endearing characters, an engaging plot, an interesting world, lots of depth, and one hell of an ending.

I expected to like Storm Siren but even still, it exceeded my expectations. From the start of the book - with Nym on the auction block - I was instantly hooked and things only got better from there. As a fan of magic, I LOVED the world of Elementals that Weber created. I thought the kingdoms-at-war backdrop and the complexity of Nym's situation - being asked to fight for the very people who enslaved her - made for a compelling storyline. And I just LOVED the characters. My heart went out to Nym, at the life she's been forced to endure as a slave and the deaths that weigh on her conscious from the power that she fears. She was such a layered character and grew in so many ways over the course of this book. I absolutely adored Colin - his humor, his kindness towards Nym - and eventually warmed to Eogen too, once his behavior was explained away. And let's not forget the villains in this book. It's always fun to have a host of bad guys to fear/hate and there are no shortage of bad guys (or girls) in this story. And the good guys didn't always win in this one, which is something I tend to appreciate.

Nym leanring to control her power was a large focus of this book as the war was developing in the background. I loved her training sessions with Colin and the victories they did have. But that ending. THAT ENDING. Damn. It was one hell of a ride and all I can say is thank goodness I had the second book already. It wasn't an easy ending - I can understand why everyone had their panties in a bunch - but the good ones aren't always. If you love surprises, you can expect a good many in this book.

There is so much about this book that I could talk about. It really was phenomenal.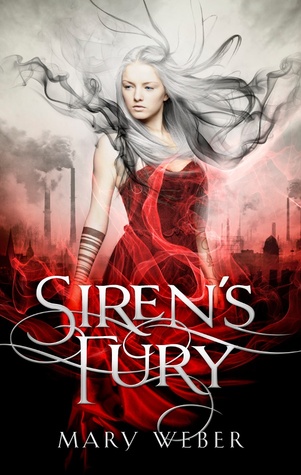 Title:
Siren's Fury
Author:
Mary Weber
Series:
The Storm Siren Trilogy #2
Publisher:
Thomas Nelson
Release Date:
June 2, 2015
Source:
Copy provided by Publisher in exchange for an honest review (
thanks Wunderkind PR and HarperCollins!
)
Summary from Goodreads:
"I thrust my hand toward the sky as my voice begs the Elemental inside me to waken and rise. But it's no use. The curse I've spent my entire life abhorring—the thing I trained so hard to control—no longer exists."
Nym has saved Faelen only to discover that Draewulf stole everything she valued. Now he's destroyed her Elemental storm-summoning ability as well.
When Nym sneaks off with a host of delegates to Bron, Lord Myles offers her the chance for a new kind of power and the whispered hope that it may do more than simply defeat the monster she loathes. But the secrets the Bron people have kept concealed, along with the horrors Draewulf has developed, may require more than simply harnessing a darker ability.
They may require who she is.
Set against the stark metallic backdrop of the Bron kingdom, Nym is faced with the chance to change the future.
Or was that Draewulf's plan for her all along?
Review
Siren's Fury was a solid follow-up to Storm Siren. It wasn't better than Storm Siren, in my opinion, but it was still a great read that expanded upon what we were introduced to in book one.

I thought it was a great twist to have Nym lose her power after wishing it gone for most of her life. I also thought it was great that she took on a dark power that started to change her - just like the enemy she was fighting against. These two developments really put things in perspective for Nym (and readers) which furthered her growth as a character and made for some interesting reading material. My only complaint is that this book largely focused on Nym and Draewulf's strange back and forth battle as they advanced on a neighboring kingdom and lacked the same action and suspense as book one. But I loved getting to spend more time with these characters - new and old alike. I only wish there were a couple more :( (those who've read this book know who I'm talking about).

And what appears to be Weber's style, the ending was epic. So much action and chock-full of surprises but also not without loss. That being said, I really like where things ended and cannot wait for the the last book. This series so far has been a huge success and I really think more people should be falling in love with it. It definitely adds something to the YA fantasy pool.