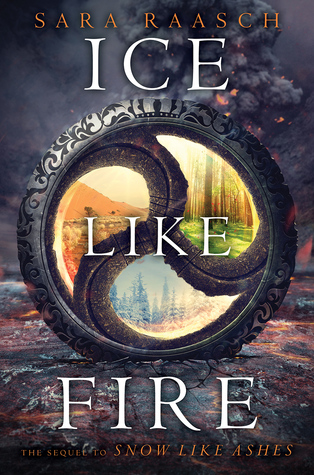 Title:
Ice Like Fire
Author:
Sara Raasch
Series:
Snow Like Ashes #2
Publisher:
Balzer + Bray
Release Date:
October 13, 2015
Source:
eARC provided by Publisher in exchange for an honest review (
thanks B&B!!)
Summary from Goodreads:
It's been three months since the Winterians were freed and Spring's king, Angra, disappeared—thanks largely to the help of Cordell.

Meira just wants her people to be safe. When Cordellan debt forces the Winterians to dig their mines for payment, they unearth something powerful and possibly dangerous: Primoria's lost chasm of magic. Theron sees this find as an opportunity—with this much magic, the world can finally stand against threats like Angra. But Meira fears the danger the chasm poses—the last time the world had access to so much magic, it spawned the Decay. So when the king of Cordell orders the two on a mission across the kingdoms of Primoria to discover the chasm's secrets, Meira plans to use the trip to garner support to keep the chasm shut and Winter safe—even if it means clashing with Theron. But can she do so without endangering the people she loves?

Mather just wants to be free. The horrors inflicted on the Winterians hang fresh and raw in Januari—leaving Winter vulnerable to Cordell's growing oppression. When Meira leaves to search for allies, he decides to take Winter's security into his own hands. Can he rebuild his broken kingdom and protect them from new threats?

As the web of power and deception weaves tighter, Theron fights for magic, Mather fights for freedom—and Meira starts to wonder if she should be fighting not just for Winter, but for the world.
Review
Ice Like Fire was not quite the sequel I had hoped it would be after the success that was Snow Like Ashes. I was happy to be back in this world and with these characters but for the size of this book, I think more should have happened. I felt myself getting impatient at times with the lack of development then sudden ease at which things would happen and frustrated by some of the repetition. The beginning and ending were strong and I'm excited for the next installment but the bulk of this book suffered from Middle Book Syndrome.
Of the things that I liked, Meira's transition from a soldier to a queen was one of them. She struggled to find a balance between the impulsive warrior that she was and the careful queen that she thought she needed to be – not realizing that she could be both. But while I appreciated her journey, this is where I thought the story got a little repetitive. Meira had several of the same conversations with herself, most without any real improvement. But I am happy with who she became in the end. She's definitely a character that is relatable and easy to root for.
I also really enjoyed the glimpses into the different Seasons and Rhythms. The world is explored in much more detail in this book which I had been waiting for since Raasch introduced us to it. Readers are also introduced to a few new characters – one of which, Ceridwen, whom I loved. Her personality reminded me a little of Celaena/Aelin from the Throne of Glass series.
And as I already mentioned, the ending was fantastic. There were quite a few shocking moments that I did not see coming, some of which broke my heart. The only thing I am really weary of is the love-triangle. I thought I knew which ship I was on but I think my ship might have sunk and now I am a little confused. Meira definitely has an uphill battle ahead of her and I look forward to seeing how she bests her enemies.
But the plot in the middle of the book was a little weak. Much of it was centered around the search for keys which sounds perfect because if anything, I LOVE a good hunt that involves deciphering clues, but perhaps that is why I was so disappointed. There really was no deciphering of clues or hunting. Meira's first guess pretty much led her straight to what she wanted to find. It was just too easy and lacked thought/suspense/excitement.
This sequel could definitely have been stronger but it didn't deter me from the series by any means. If you were a fan of Snow Like Ashes, I would definitely continue along with the story, just perhaps lower your expectations a little for Ice Like Fire. I have faith that Sara Raasch will deliver in the end.