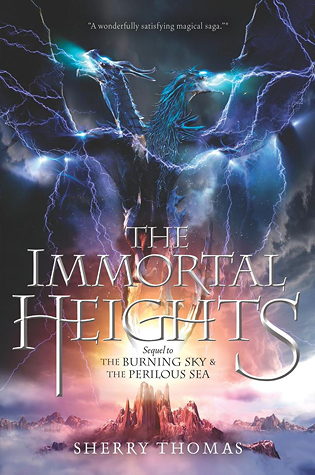 Title:
The Immortal Heights
Author:
Sherry Thomas
Series:
The Elemental Trilogy #3
Publisher:
Balzer & Bray
Release Date:
October 13, 2015
Source:
eARC provided by Publisher in exchange for an honest review (
thanks HarperCollins!
)
Summary from Goodreads:
In a pursuit that has spanned continents, Iolanthe, Titus, and their friends have always managed to remain one step ahead of the forces of Atlantis. But now the Bane, the monstrous tyrant who bestrides the entire mage world, has issued his ultimatum: Titus must hand over Iolanthe, or watch as his entire realm is destroyed in a deadly rampage. Running out of time and options, Iolanthe and Titus must act decisively to deliver a final blow to the Bane, ending his reign of terror for good.
However, getting to the Bane means accomplishing the impossible—finding a way to infiltrate his crypt in the deepest recesses of the most ferociously guarded fortress in Atlantis. And everything is only made more difficult when new prophecies come to light, foretelling a doomed effort....
Iolanthe and Titus will put their love and their lives on the line. But will it be enough?
With The Immortal Heights, Sherry Thomas brings the acclaimed Elemental Trilogy to its breathtaking conclusion.
Review
For those who've read The Perilous Sea, you know that it ended on one hell of a cliffhanger. Well, The Immortal Heights picks up right where it left off - right in the thick of things. And it doesn't slow down for a second. Everything that's been building in the first two books - the final face off with the Bane - is finally here.
Fans of this series will not be disappointed in this conclusion. If I wasn't frantically turning pages, swooning, nail-biting, or laughing, I was frozen in shock. Just when you think Sherry Thomas can't throw you any more surprises, she'll prove you wrong. And in some ways, she spares our delicate little hearts and in other ways, she stomps on them. She shows us new areas of the Mage world and give us even more characters to love. It was such a pleasure being back with these characters for one final adventure. I am happy to report that things were nicely concluded even though I wish it never had to end.
However, for as great at The Immortal Heights was, I found it to have a few minor imperfections. The fact that this book starts in the midst of a battle didn't give me time to reacclimate to the story so I felt a little dazed in the beginning. I also found the writing to be a little wordy and sometimes struggled with the readability of it. I don't recall having this feeling with the two previous books so not sure if it was me, or what. And lastly, I found the face-off with the Bane to be just a tad anti-climatic after all the build up if I am being completely honest. BUT JUST A TAD. But these things did not detract much from my overall enjoyment while reading this book. Again, I love this story, this world and these characters so much that I was just happy to be back with it all.
This entire series has been one epic, fantastical, high-stakes, high-action adventure and is definitely a favorite of mine. Not just because it was exciting, but also because it was oh, so, lovable. Titus and Iolanthe are one of my favorite OTPs EVER and I will ship them until death do us part. I highly recommend this series to anyone who likes fantasy, action-adventure, gender-bending, OTPs and more. It has everything one could hope for in a series and in a conclusion.