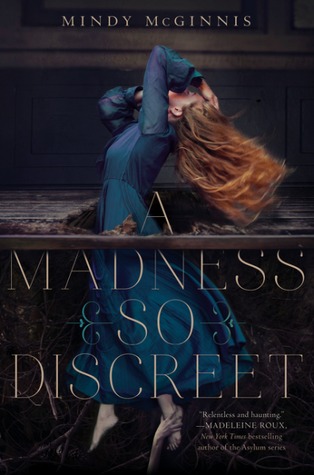 Title:
A Madness So Discreet
Author:
Mindy McGinnis
Publisher: Katherine Tegen Books
Release Date:
October 6, 2015
She keeps it locked away, along with her voice, trapped deep inside a brilliant mind that cannot forget horrific family secrets. Those secrets, along with the bulge in her belly, land her in a Boston insane asylum.
When her voice returns in a burst of violence, Grace is banished to the dark cellars, where her mind is discovered by a visiting doctor who dabbles in the new study of criminal psychology. With her keen eyes and sharp memory, Grace will make the perfect assistant at crime scenes. Escaping from Boston to the safety of an ethical Ohio asylum, Grace finds friendship and hope, hints of a life she should have had. But gruesome nights bring Grace and the doctor into the circle of a killer who stalks young women. Grace, continuing to operate under the cloak of madness, must hunt a murderer while she confronts the demons in her own past.
In this beautifully twisted historical thriller, Mindy McGinnis, acclaimed author of Not a Drop to Drink and In a Handful of Dust, explores the fine line between sanity and insanity, good and evil—and the madness that exists in all of us.
Review
In my habit of not reading, or reading and forgetting, synopses, I didn't really know what I was getting into when I picked up A Madness So Discreet. I only knew that it was going to be good since Mindy McGinnis wrote it. And it
was
good, REALLY good. And so pleasantly unexpected.
Grace doesn't belong in an Asylum - she's there to keep her reputation in tact and hide a very dark family secret - but she prefers the harsh accommodations and mistreatment over returning home. So when a visiting doctor gives her an opportunity to escape her old life, she takes it, even if it means spending her days in silence at another Asylum and her nights mesmerizing crime scenes. I loved the profiling aspect of the murder investigation and how sharp Grace's character was. It was just yet one more thing to pull me into this story.
Grace went through a serious emotional journey over the course of this book, which is understandable considering what she's been through and where she was sent. She was pushed to the edge of her limits but was ultimately pulled back by those close to her, which I loved. And in the end she found her closure. Full disclosure, this book is dark and there were quite a few uncomfortable moments when we learn what happened to Grace and what threatened another character. But I'm not one to shy away from these kinds of stories and it always helps when justice is served in the end.
This book has such a wonderful cast of characters, both among the sane and the crazy, and I was interested in their well-being just as much as Grace's. I also really appreciated the mental illness focus because mental illness is something that is so easily misunderstood and often feared. And Asylum settings always add a certain creep factor to any story, and while the crazies and horrors were muted somewhat in this book, there were still a few scenes that gave me chills.
Really, this book has so much to offer a reader. It is very full and takes quite a few unexpected turns. The characters are wonderful and the suspense is at an all time high. I wouldn't expect anything less from Mindy McGinnis. A Madness So Discreet is definitely another hit.