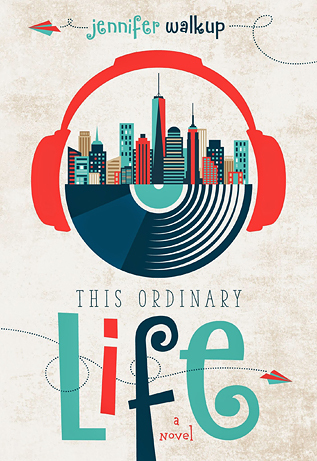 Title:
This Ordinary Life
Author:
Jennifer Walkup
Publisher:
Luminis Books, Inc.
Release Date:
October 1, 2015
Summary from Goodreads:
Sometimes Hope is the Most Extraordinary Gift of All.
High-school radio host Jasmine Torres's life is full of family dysfunction, but if she can score the internship of her dreams with a New York City radio station, she knows she can turn things around.
That is, until her brother Danny's latest seizure forces her to miss the interview, and she's back to the endless loop of missing school for his doctor appointments, picking up the pieces of her mother's booze-soaked life, and stressing about Danny's future.
Then she meets Wes. He's the perfect combination of smart, cute, and funny. He also happens to have epilepsy like her brother. Wes is living a normal life despite his medical issues, which gives Jasmine hope for Danny. But memories of her cheating ex-boyfriend keep her from going on a real date with Wes, no matter how many times he asks her.
Jasmine can't control everything. Not who wins the internship, not her mother's addiction, not her brother's health--not even where her heart will lead her. She wishes she could just have an ordinary life, but maybe what she already has is pretty extraordinary after all.
Review
This Ordinary Life was just the book I was in the mood to read - not too serious yet not too light with a cute romance and lots of personality.
I was touched by how Jasmine took care of her brother Danny who suffered from epilepsy. And I applauded how well Jennifer Walkup educated readers on this type of condition. She didn't skirt around any harsh truths but at the same time, kept from diving in too deep. I can't say I've read too many books where not one, but
two
, main characters suffered from epilepsy and I love when books teach me something.
I also loved that Jasmine had a huge passion for radio and I was 100% behind her as she tried to pursue her dream internship despite the challenges her home life presented. It's fun watching an MC succeed at something he/she works hard for. Jasmine's dedication, positive attitude, and willingness to fight are just a few examples of why she is such an admirable and inspiring character to readers of all ages.
And I absolutely adored Wes, the love interest, who was sincere, funny, thoughtful, kind and all things good in this world. His attempt at courting Jasmine put smile on my face and kept it there throughout the book. I especially respected the maturity with which Jasmine approached the Wes situation. She had just come out of a long term relationship, quite disastrously, and didn't want to move on to something else too soon. But what I respected even more was her honesty with herself when she questioned whether or not she had the strength and courage to love
another
person with epilepsy. But these two were too perfect together to not be together...
This Ordinary Life was a quick read, which I think kept it from getting too heavy despite having a couple of more serious themes. The playful interactions with Wes and Jasmine's passion for radio also helped bring the mood up. Like I said, it was just the blend of feelings I was looking for and definitely a memorable experience. I easily recommend this one.