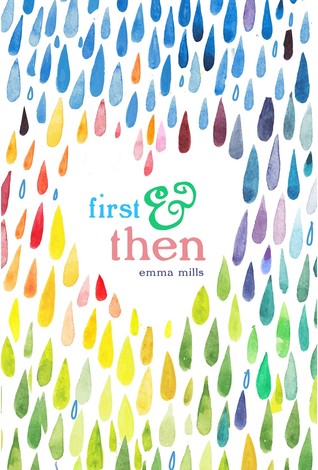 Title:
First & Then
Author:
Emma Mills
Publisher:
Henry Holt and Co. (BYR)
Release Date:
October 13, 2015
Summary from Goodreads:
Devon Tennyson wouldn't change a thing. She's happy watching Friday night games from the bleachers, silently crushing on best friend Cas, and blissfully ignoring the future after high school. But the universe has other plans. It delivers Devon's cousin Foster, an unrepentant social outlier with a surprising talent for football, and the obnoxiously superior and maddeningly attractive star running back, Ezra, right where she doesn't want them first into her P.E. class and then into every other aspect of her life.
Pride and Prejudice meets Friday Night Lights in this contemporary novel about falling in love with the unexpected boy, with a new brother, and with yourself.
Review
This book was so easy to read with an undercurrent of humor and a fun Jane Austen meets Friday Night Lights theme. And it was undeniably cute. Foster, himself, was a big reason for that, who was the kind of person who was easy to like without him trying to hard. He was completely unaccustomed to the attention he began to receive as Temple Sterlings new freshman varsity kicker, yet managed to stay true to his quirky, unruffled ways. Devon and Foster's relationship was also great - initially she was unappreciative of him and often she was exasperated by him, but she was always protective of him and ultimately grateful for his new presence in her life. Especially since he was the reason she got to know Ezra better. Ezra, meanwhile, was a tough cookie to crack. He was kind and patient with Foster but closed-off to most everyone else. It took a while for Devon to crack his outer shell. In fact, it was downright painstakingly slow. But I thought Devon and Ezra were sweet together. . And I liked how Devon's feelings towards Ezra led her to realize that her feelings toward Cas were indeed just a silly crush.
But there was an off feeling about the story that kept me from loving it. I liked Devon well enough, but she never showed much emotion, which was a little unsettling to me. It was as if her personality was muted and this could have been because she was meant to be ordinary but regardless, I wish she had been a little more lively. The High School setting also didn't feel that real to me which could be contributed to the fact that I didn't find all of the relationships believeable. Too many went against the natural order of High School, which is sad but also true. But this was more of an observation than something that actually affected my reading experience because I still
liked
the relationships.
I think the very trait that made me like this story is the same trait that kept me from loving it - it's nonconformity. But this also feels like a "me" thing.
And at the end of the day, I enjoyed some of the messages that the author was trying to convey - about not being so quick to judge others and how we are all good at something, even if we seem completely average. I think many will enjoy this charming story, as many already have, myself included.