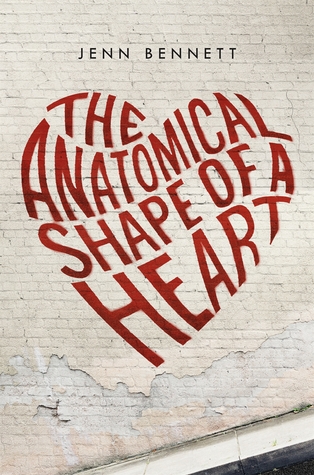 Title:
The Anatomical Shape of a Heart
Author:
Jenn Bennett
Publisher:
Feiwel & Friends
Release Date:
November 3, 2015
Source:
Borrowed (thanks Danielle @ Love at First Page)
Summary from Goodreads:
A mysterious graffiti artist, an anatomy-obsessed artist, and a night bus that will bring the two together.

Artist Beatrix Adams knows exactly how she's spending the summer before her senior year. Determined to follow in Da Vinci's footsteps, she's ready to tackle the one thing that will give her an advantage in a museum-sponsored scholarship contest: drawing actual cadavers. But when she tries to sneak her way into the hospital's Willed Body program and misses the last metro train home, she meets a boy who turns her summer plans upside down.

Jack is charming, wildly attractive . . . and possibly one of San Francisco's most notorious graffiti artists. On midnight buses and city rooftops, Beatrix begins to see who Jack really is—and tries to uncover what he's hiding that leaves him so wounded. But will these secrets come back to haunt him? Or will the skeletons in Beatrix's own family's closet tear them apart?
Review
The Anatomical Shape of a Heart has all the makings of a strong contemporary – a great romance, thought-provoking family and friend dynamics, a dreamy setting, and strong character growth. But it's all the other details in this book that are so unique that make it truly memorable. Like the fact that Bex is obsessed with anatomy and wants to create medical illustrations for a living. And the fact that Jack is a vegetarian, Buddhist, virgin, graffiti artist. It's how all of the characters kept surprising me. How Bennett writes sex-positive YA. The glimpse into mental illness. And so much more. This book was an absolute pleasure to read.
Despite the somewhat rocky start that had to do with Bex acting mad at Jack every time he showed up, the romance in this book was on point. Jack was basically the perfect specimen. He was a genuinely good guy and did and said some of the absolute sweetest things. He was also smoking hot and extremely confident but showed a vulnerable side at the same time. He went after what he wanted and ended up being a steady and calming presence in Bex's life. I absolutely adored him (and want him for myself). Meanwhile, I really enjoyed Bex's voice. She was level-headed, drama-free and had some of the best commentary regarding her feelings for Jack. The chemistry between these two was off the charts and I swooned HARD. You could tell Bennett writes Adult Romance.
Another thing I really appreciated was that any and all drama for the sake of the plot occurred outside Bex and Jack's relationship. They didn't have problems that were caused by miscommunication or just plain stupidity. They were two mature characters and had a strong bond that allowed them to tackle issues as a team. It was refreshing.
I really could go on and on. The secondary characters were strong and there were some good messages about mental illness, and forgiveness and doing the wrong things but for the right reasons. Again, the art and anatomy themes were really neat. Really my only complaint was the beginning between Bex and Jack but once that's past, it's all uphill. This is a must read contemporary!!