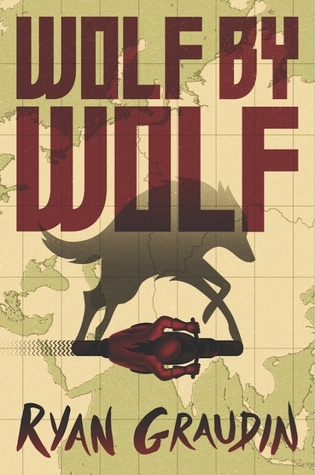 Title:
Wolf by Wolf
Author:
Ryan Graudin
Series:
Wolf by Wolf #1
Publisher:
Little, Brown Books for Young Readers
Release Date:
October 20, 2015
Summary from Goodreads:
Code Name Verity meets Inglourious Basterds in this fast-paced novel from the author of The Walled City.
The year is 1956, and the Axis powers of the Third Reich and Imperial Japan rule the world. To commemorate their Great Victory over Britain and Russia, Hitler and Emperor Hirohito host the Axis Tour: an annual motorcycle race across their conjoined continents. The victor is awarded an audience with the highly reclusive Adolf Hitler at the Victor's ball.


Yael, who escaped from a death camp, has one goal: Win the race and kill Hitler. A survivor of painful human experimentation, Yael has the power to skinshift and must complete her mission by impersonating last year's only female victor, Adele Wolfe. This deception becomes more difficult when Felix, Adele twin's brother, and Luka, her former love interest, enter the race and watch Yael's every move. But as Yael begins to get closer to the other competitors, can she bring herself to be as ruthless as she needs to be to avoid discovery and complete her mission?
Review
I've always found alternate histories fascinating and the world in Wolf by Wolf was no exception. In Wolf by Wolf, Nazi Germany was never defeated in World War II. Instead Adolf Hilter is very much alive and has successfully conquered most of Europe, Africa and Asia. As a result, the Aryan race is at the height of society while all others have been oppressed to varying degrees. It was both a terrifying and interesting world to explore and the race was a great means to explore it. In glimpses, we see cities and cultures forever changed - some abandoned, some quieted - all according to Hitler's vision.
Yael, being Jewish, was sent to a concentration camp when she was just a little girl and experimented on until she developed the ability to skinshift as a side effect and used it to escape. Soon after she was recruited by the resistance and, fueled by those that she lost, spent the next 10 years of her life training to get her revenge. When finally given the opportunity to impersonate Adele Wolfe and assassinate Hitler, Yael thought she was ready, but she was never prepared for the relationships she would have fake, or the casualties that she might have to take, in her race to the finish line. The battle that raged within Yael was so well done. She hated these perfect examples of German-Japan dominance but at the end of the day these racers were somebody's family, friend, hope, and more. Despite what's been done to her and her people, her choices were never black and white and her conscience weighed on her.
But the fate of so many rested on her shoulders and that is why Yael did everything in her power to win the race. As a fan of competitions, I loved the unpredictability of the road ahead and the combined wariness and excitement over the obstacles she would have to face. There was no shortage of betrayals and close calls and I loved rooting for Yael through it all. The end did and didn't play out like I expected but I loved the surprises. I can't wait for the next book.
This book was almost impossible to put down. I thought about it all day at work and devoured it in matter of days. It was both plot and character driven with an interesting historical backdrop and touch of sci fi. I definitely recommend this one!