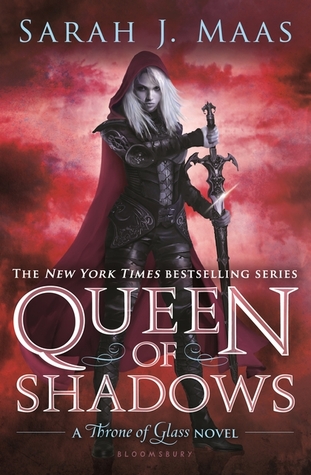 Title:
Queen of Shadows
Author:
Sarah J. Maas
Series:
Throne of Glass #5
Publisher:
Bloomsbury USA Childrens
Release Date:
September 1, 2015
Summary from Goodreads:
Everyone Celaena Sardothien loves has been taken from her. But she's at last returned to the empire—for vengeance, to rescue her once-glorious kingdom, and to confront the shadows of her past...

She will fight for her cousin, a warrior prepared to die just to see her again. She will fight for her friend, a young man trapped in an unspeakable prison. And she will fight for her people, enslaved to a brutal king and awaiting their lost queen's triumphant return.

Celaena's epic journey has captured the hearts and imaginations of millions across the globe. This fourth volume will hold readers rapt as Celaena's story builds to a passionate, agonizing crescendo that might just shatter her world.
Review
I'm not sure there is another series that makes me feel quite like this one does. I could honestly read it forever, that is how much I love it. Crown of Midnight used to be my favorite book in the series but I think Queen of Shadows just usurped it. And yet, in some ways, I don't think it was perfect. I've seen some readers mention that they both love and hate this book and while I would never associate the word hate with Sarah J. Maas (or any negative emotion at all), I understand the sentiment they are trying to express. There are some things I wish were done differently, some I'm a little more upset about than others, but even so, I am obsessed with this book and I think it deserves all the stars. And I think that is because while I might change 1% of this book, the other 99% is so fucking off-the-charts perfect that that 1% is insignificant to me.
From this point forward, I'm going to just spew my thoughts everywhere...
Like, how fucking perfect was Aelin. MY GOD. Her shit definitely smells like roses. She is one brilliant badass and I love her so much it's unhealthy. I would swear fealty to her in a second. Rowan and Aedion move over. WAIT DID SOMEONE SAY ROWAN? Can I have his babies? Actually, I'll take Aedion because 1) Aelin could obviously so take me and 2) I just love those snarky royals. And then HELLO LYSANDRA. Talk about surprises! And while we are on the subject of surprises, I claim Asterin as my own second. Except, Manon scares me. LIKE REALLY SCARES ME. So, I guess I'll settle-but-not-really-settle for Elide. Or Nesryn. Damn that girl can shoot. I need to mention Dorian so DORIAN. Poor guy can't catch a break. Did I miss anyone awesome? Oh shit, Chaol... I guess this is as good a time as any to say...
WHAT THE HELL HAPPENED. I really wish the reunion between Aelin and Chaol was handled differently and this is the one thing that I am mildly upset about but that quickly gets overshadowed by the overwhelming feels I just vomited up in the last paragraph. But yeah, their relationship was not what I expected and I don't feel it was all that necessary for things to play out the way they did.
CAN WE GO BACK TO ALL THE THINGS THAT HAPPENED IN THIS BOOK NOW? By far the best thing to happen was Lysandra shifting into a ghost leopard and annihilating those Valg soldiers. Or am I the only one reliving that glorious moment? I am also happy about the long-overdue deaths of the two arrogant evil bastards that called themselves kings but I wish their deaths were more dramatic after all that gods-damned buildup (second gripe). But there was never a dull moment in this book. There were several occasions were I may or may not have squealed out loud (in public), cackled like an evil witch, actually got up and happy danced, stared at my book in horror, stared at my book in awe, blushed so furiously I pretended I got sunburn, and many more embarrassing but totally justifiable display of feels. Sarah J. Maas always brings out the best in me.
So was this book perfect? Yes.
(And no).
Thank the gods that there are two more books. Don't even get me started on the mess of a human being I am going to be when this series eventually ends. Oh, and if you haven't started this series, i'm not sure we can be friends.