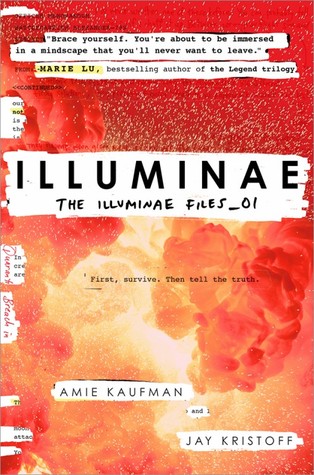 Title:
Illuminae
Author:
Amie Kaufman, Jay Kristoff
Series:
The Illuminae Files #1
Publisher:
Knopf Books for Young Readers
Release Date:
October 20, 2015
Source:
ARC obtained at ALA & super fancy ARC obtained at BEA
Summary from Goodreads:
This morning, Kady thought breaking up with Ezra was the hardest thing she'd have to do.
This afternoon, her planet was invaded.
The year is 2575, and two rival megacorporations are at war over a planet that's little more than an ice-covered speck at the edge of the universe. Too bad nobody thought to warn the people living on it. With enemy fire raining down on them, Kady and Ezra—who are barely even talking to each other—are forced to fight their way onto an evacuating fleet, with an enemy warship in hot pursuit.
But their problems are just getting started. A deadly plague has broken out and is mutating, with terrifying results; the fleet's AI, which should be protecting them, may actually be their enemy; and nobody in charge will say what's really going on. As Kady hacks into a tangled web of data to find the truth, it's clear only one person can help her bring it all to light: the ex-boyfriend she swore she'd never speak to again.
Told through a fascinating dossier of hacked documents—including emails, schematics, military files, IMs, medical reports, interviews, and more—Illuminae is the first book in a heart-stopping, high-octane trilogy about lives interrupted, the price of truth, and the courage of everyday heroes.
Review
How does one begin to review the most epic book of all time?
Illuminae absolutely BLEW MY MIND
. It was unlike anything I have ever read and there are just no words.
Where should my feeble attempts even begin?
With the utter racing of my heart or with its complete destruction?
The survivors of the attack on Karenza were fighting against the clock
as the Lincoln closed the distance and threatened to finish what it started
. Tension was at an all time high. Command was in disarray. Civilians were forced to become soldiers. Death was inevitable. As if those odds weren't bleak enough,
a virus starts contaminating the remaining population
, turning everyone into psychotic killers. Brutality is everywhere. Impossible decisions need to be made. AND AS IF THAT WEREN'T ENOUGH,
the ship's Artificial Intelligence goes batshit crazy
too making "calculated decisions for the greater good"! MY HEART.
AND THEN EVERYBODY DIES.
Ok, not everybody. I was being dramatic. But while I was reading,
it sure as hell felt as if everyone was dead or doomed.
How about I fast forward to the end with my breath of relief and tears of joy.
When I discover that not all hope is lost. Jay Kristoff and Amie Kaufman gave us just enough so that they can destroy us all over again in the sequel. AGAIN, MY HEART.
It was epic and beautiful and I both hate and love them for it.
This book was brilliant. It was evil. It was glorious. It was exhausting. And it was told in the most unique way I have ever seen.
I LOVED the concept behind the entire book - the interview logs, video surveillance recordings, hacked messages, internal memos, article intelligence scripts, schematics, illustrations etc.
It was a work of art.
And all of the computer mumbo jumbo and hacking JUST FED MY SOUL.
My heart was threatening to burst out of my chest for 599 pages.
How does one begin to recover from reading such a book? (hold me).
My god, just read the damn book. *curls into fetal position*