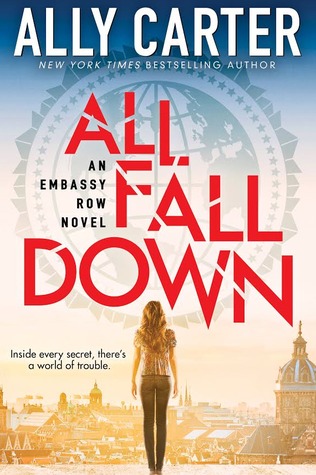 Title:
All Fall Down
Author:
Ally Carter
Series:
Embassy Row #1
Publisher:
Scholastic Press
Release Date:
January 20, 2015
Summary from Goodreads:
This exciting new series from NEW YORK TIMES bestselling author Ally Carter focuses on Grace, who can best be described as a daredevil, an Army brat, and a rebel. She is also the only granddaughter of perhaps the most powerful ambassador in the world, and Grace has spent every summer of her childhood running across the roofs of Embassy Row.

Now, at age sixteen, she's come back to stay--in order to solve the mystery of her mother's death. In the process, she uncovers an international conspiracy of unsettling proportions, and must choose her friends and watch her foes carefully if she and the world are to be saved.
Review
All Fall Down was way more traumatic than I was ready for. Grace is still suffering from having witnessed her mother's murder years ago and absolutely loses it when she returns to Embassy Row and comes face to face with her mother's murderer, who is seemingly planning to kill again. She is frequently overwhelmed by memories of that night and is a little unstable. Add to that the fact that is that no one believes her - the evidence doesn't support that her mother was murdered and Grace has wrongfully accused other scarred men in the past. This casts doubt on Grace, making her a little bit of an unreliable narrator. Since I was expecting more of a light and fun mystery/spy story, the whole psychological thriller feel caught me a little off guard. And I felt like Grace spent a lot of time having breakdowns (not to say that it wasn't warranted).

I liked the idea behind this story, I am just not sure I am 100% convinced by the execution. The setting was interesting - a city of Embassies which a tenuous peace between them - but a little underdeveloped. I did like the secondary characters. Noah is the 'funny guy' of the novel and provided a steady stream of comic relief. Meanwhile, Megan is this girly-girl computer genius and Rosie reminded me of a kid ninja. I think this gang - with all of their differences and quirks - has a lot of promise. But then there was the ending. I am not sure that I liked the twist because it is just too difficult to bear. If I were Gracie I would lose it even more now. And I don't understand what the reveal was all about at the end. *Shrugs* But I guess that otherwise, I liked the surprises.

So you see, there were things I liked and things that I think could have been done better, which is leading to my just average 'I liked it' rating. Also, my expectations might have been a little high for this one after seeing all of the raving reviews but without having previously read anything by Ally Carter. But I am interested in continuing this series and maybe trying some of Ally Carter's other work.