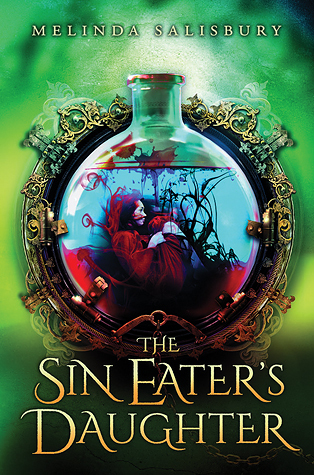 Title:
The Sin Eater's Daughter
Author:
Melinda Salisbury
Publisher:
Scholastic Press
Release Date:
February 24, 2015
Source:
ARC received from Publisher in exchange for an honest review (thank you Scholastic!)
Summary from Goodreads:
Seventeen-year-old Twylla lives in the castle. But although she's engaged to the prince, Twylla isn't exactly a member of the court.
She's the executioner.
As the Goddess embodied, Twylla instantly kills anyone she touches. Each month she's taken to the prison and forced to lay her hands on those accused of treason. No one will ever love a girl with murder in her veins. Even the prince, whose royal blood supposedly makes him immune to Twylla's fatal touch, avoids her company.
But then a new guard arrives, a boy whose easy smile belies his deadly swordsmanship. And unlike the others, he's able to look past Twylla's executioner robes and see the girl, not the Goddess. Yet Twylla's been promised to the prince, and knows what happens to people who cross the queen.
However, a treasonous secret is the least of Twylla's problems. The queen has a plan to destroy her enemies, a plan that requires a stomach-churning, unthinkable sacrifice. Will Twylla do what it takes to protect her kingdom? Or will she abandon her duty in favor of a doomed love?
Review
Part of what I loved most about The Sin Eater's Daughter was how fantastical it was. Twylla herself is Daunen Embodied, the daughter of the God of life and the Goddess of death, gifted with powers to act as the balance between the two. Her skin is poisonous and for this reason, the Queen uses her to execute traitors. Were she not Daunen Embodied, she would have followed in her mother's footsteps as the kingdom's Sin Eater, someone who eats the sins of the dead to cleanse the soul so it can ascend to the Eternal Kingdom. And then there is the legend of the Sleeping Prince - 500 years ago the prince of a neighboring kingdom was cursed into an enchanted sleep and his kingdom fell to ruins around him. The whole story was set against a backdrop of marvelous imagination, which I loved. However, there were periods of info-dumping and moments of confusion as I adapted to this different and complex world. Not enough to hold me back, but enough that I can understand where some of the complaints are coming from...
Amidst this world of legends, a tyrannical Queen rules the kingdom Lormere, the same Queen who directs Twylla around like a puppet. Nobody dare defy her for fear of her wrath - which is violent and absolute - including Twylla. But then a guard turns her world upside down - revealing the truth in the lies she's been fed her whole life - and Twylla finally sees a way out. But the Queen has other plans for her...
The beginning of this book was just a little too info-heavy, the middle just a little too romance-heavy, but the ending was just right - with lots of action, suspense and welcome surprises. The Queen was batshit crazy but made the best of villains. Discovering the depths of her madness and deception was both disturbing and exciting at the same time. I loved every moment of it and I have not a single complaint.
The Sin Eater's Daughter wasn't perfect but it was enjoyable and has all of the promise in the world to become something great. I think Twylla has room for a lot of growth, which we glimpsed a little bit of at the end. And the story ended on such a high note that I think it rightly overshadows any of my earlier reservations. I really can't wait to see what happens next, and if you can be a little patient with this one, I think you should read it because it will pay off in the end. Such a unique new series!