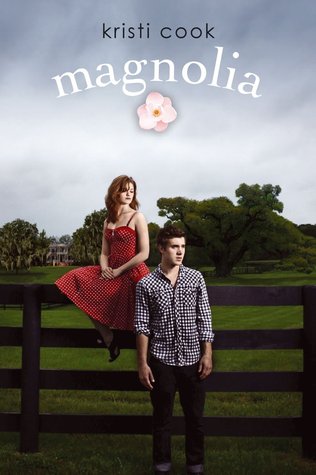 Title:
Magnolia
Author:
Kristi Cook
Publisher:
Simon & Schuster
Release Date:
August 5, 2014
Summary from Goodreads:
In Magnolia Branch, Mississippi, the Cafferty and Marsden families are southern royalty. Neighbors since the Civil War, the families have shared vacations, holidays, backyard barbecues, and the overwhelming desire to unite their two clans by marriage. So when a baby boy and girl were born to the families at the same time, the perfect opportunity seemed to have finally arrived.
Jemma Cafferty and Ryder Marsden have no intention of giving in to their parents' wishes. They're only seventeen, for goodness' sake, not to mention that one little problem: They hate each other! Jemma can't stand Ryder's nauseating golden-boy persona, and Ryder would like nothing better than to pretend stubborn Jemma doesn't exist.
But when a violent storm ravages Magnolia Branch, it unearths Jemma's and Ryder's true feelings for each other as the two discover that the line between love and hate may be thin enough to risk crossing over.
Review
Magnolia was just the book I needed to read - a new twist on the hate-to-love romance with lots of personality. Jemma and Ryder's families have been as thick as thieves for generations and want nothing more than for Jemma and Ryder to get married and tie their families together once and for all. The only problem is that Jemma and Ryder avoid each other at all costs. Something happened in 8th grade that tore them apart and they are both too damn stubborn to talk through it. But then a hurricane hits Magnolia Branch and Jemma and Ryder and forced to brave the storm together and confront their true feelings...

There were so many things I loved about this book - the Southern flair, the chemistry, the drama. I got such a kick out of their mamas relentlessly trying to pair them together although I'm sure I would have been annoyed were I Jemma or Ryder. And I loved how anytime they were together they were insisted on hiding it from their parents, not because they would get in trouble like normal teenagers would, but because their parents would celebrate. This situation was so opposite from all of the forbidden romance storylines that I read that I found it to be such a refreshing change of pace. Also, I think the storm was a great way to bring them together while adding a certain seriousness to the story. What they had to go through was pretty scary and sad.

I wasn't thrilled about the Patrick complication. I think it was a little far-fetched. (They were NOT going out). And sometimes I just wanted to shake Jemma and Ryder for being SO STUBBORN. But I pretty much loved everything else. The friendships were great. The theme about following you own path is always one I loved to read about. So much about this story was well done. It was a really good blend of fun, swoony, serious, inspiring - I am completely charmed by it.

I am so glad I finally read this one. All of the fuss is well-deserved; it's definitely a book that stands out in the contemporary genre. I highly highly recommend it!