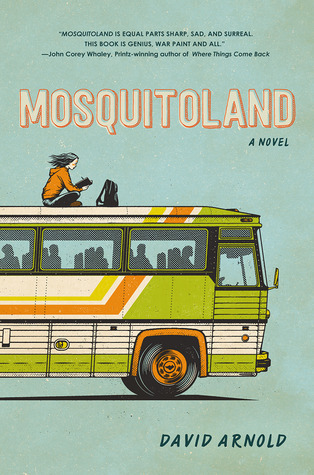 Title:
Mosquitoland
Author:
David Arnold
Publisher:
Viking Books for Young Readers
Release Date:
March 3, 2015
Source:
ALA MW
Summary from Goodreads:
"I am a collection of oddities, a circus of neurons and electrons: my heart is the ringmaster, my soul is the trapeze artist, and the world is my audience. It sounds strange because it is, and it is, because I am strange."

After the sudden collapse of her family, Mim Malone is dragged from her home in northern Ohio to the "wastelands" of Mississippi, where she lives in a medicated milieu with her dad and new stepmom. Before the dust has a chance to settle, she learns her mother is sick back in Cleveland.

So she ditches her new life and hops aboard a northbound Greyhound bus to her real home and her real mother, meeting a quirky cast of fellow travelers along the way. But when her thousand-mile journey takes a few turns she could never see coming, Mim must confront her own demons, redefining her notions of love, loyalty, and what it means to be sane.
Told in an unforgettable, kaleidoscopic voice, "Mosquitoland" is a modern American odyssey, as hilarious as it is heartbreaking
.
Review
This is one of those books that is impossible to find words for. Not just because the story is profoundly beautiful but also because I will never use the English language as well as David Arnold does and I am embarrassed to even try. But I guess this review wouldn't be much of a review if I didn't....

By Page 8, I knew I was in love with this book. As a result, I am forced to reevaluate my criticisms on instal-love because I am now a victim of it. Mim's voice, which was equal parts clever, funny, strange, and honest, INSTANTLY pulled me in. I found her to be a complete delight and so entertaining. As she travels across the country to find her mom, she meets all kinds of characters, two of whom are almost as awesome as her. She finds Walt in the woods, or shall I say, Walt finds her. He has down syndrome and appears to have been abandoned and Mim instantly adopts him as her own. He was pure sunshine and the joy Mim felt at being around him became my joy. Then there was Beck, this mysterious and swoony slightly-older guy, who was on his own journey of sorts. Mim was fascinated with him and their exchange was easy and hilarious. These three unlikely companions just worked and I can't help but smile thinking about them.

For all the laughs, this was a quite serious and thought-provoking read, which I think is a testament to David Arnold's writing ability. Mim chronicles her journey in a notebook and also shares stories of her past and of the events that form the reasons for her making this trip. Divorce, death and mental illness are just a couple of the more weighty issues that surface throughout this story. And there were many philosophical questions tossed around that made me think about things like life and love on a deeper level. A lot of inward and outward discovery and personal growth happened within these pages. Mim's mental state comes into question a few times which makes her a bit of an unreliable narrator and Arnold uses that to his advantage. There were a lot of unexpected moments and jarring feels. As for the ending, it was quite perfect in my opinion but it was open-ended.

This book is just bursting with personality. It is a collection of people and moments and feels that will stick with me for a long time. It is magic and everybody needs magic in their life. Thus, everyone needs this book in their life. Also, I spied the end pages of this book and they are GORGEOUS. All the more reason to buy a copy.