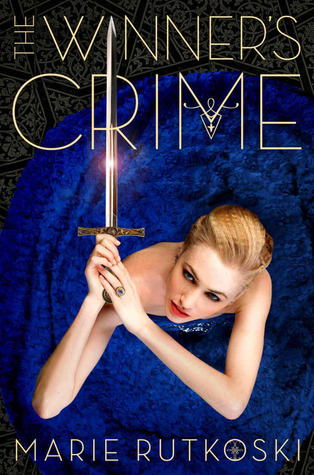 Title:
The Winner's Crime
Author:
Marie Rutkoski
Series:
The Winner's Trilogy #2
Publisher:
Farrar Straus Giroux
Release Date:
March 3, 2015
Source:
Borrowed (
Thanks Danielle!
)
Summary from Goodreads:
Book two of the dazzling Winner's Trilogy is a fight to the death as Kestrel risks betrayal of country for love.

The engagement of Lady Kestrel to Valoria's crown prince means one celebration after another. But to Kestrel it means living in a cage of her own making. As the wedding approaches, she aches to tell Arin the truth about her engagement…if she could only trust him. Yet can she even trust herself? For—unknown to Arin—Kestrel is becoming a skilled practitioner of deceit: an anonymous spy passing information to Herran, and close to uncovering a shocking secret.

As Arin enlists dangerous allies in the struggle to keep his country's freedom, he can't fight the suspicion that Kestrel knows more than she shows. In the end, it might not be a dagger in the dark that cuts him open, but the truth. And when that happens, Kestrel and Arin learn just how much their crimes will cost them.
Review
The Winner's Curse was one of my favorite books of 2014. It had everything I could hope to find in a book - war, politics, romance, rebellion (among other things) - but what I loved the most was the constant strategizing. I love the weighing of the odds, carefully chosen words, hidden intent. The Winner's Curse kept me on my toes, made me think, and I never knew what to expect. And the ending killed me. I was very much looking forward to reading The Winner's Crime.

The Winner's Crime ended up being much more romance-focused than I expected. Kestrel knows that marrying the Prince is best for everyone but she is consumed by thoughts of Arin and struggles to accept her new life. Yet she keeps Arin at arms length for both their sakes even while helping the Herrani by spying on her own people. Kept in the dark and confused by her mixed signals, Arin can't decide whether he trusts Kestrel or not and a war is raging inside him. The chemistry between these two was palpable and their relationship is one I can easily root for. But it was painful to watch so much miscommunication that was obviously hurting the both of them. And I admit, I wished there was more action.

Although not as plot-driven and action-packed as the first book, there was still a good amount of mystery and intrigue as Kestrel tries to uncover the emperor's true motives towards the Herrani while avoiding his detection. And in the second half of the book, Arin travels to the East to try and form an alliance. But the ending is where this book really shines, when all of the pieces come together. Although I could see Kestrel's story heading in a certain direction, I didn't know quite what to expect and so I was taken by surprise. Whereas, Arin was a wild card - I never knew where he would end up but I think his storyline will be necessary in the 3rd book. I look forward (and am extremely anxious) to see what Rutkoski has in store for us in the last book.

So even though I didn't find The Winner's Crime to be quite as good as the first book, I still think it is a really strong sequel. Kestrel and Arin's forbidden love remains a point of contention and cause for drama. And Rutkoski added quite a few more players and variables to the game. The Winner's Trilogy definitely keeps its spot as one of my new favorite series and I stand by my recommendation that this is a must read!