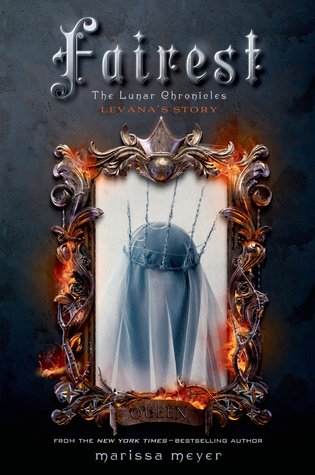 Title:
Fairest
Series:
The Lunar Chronicles
Author:
Marissa Meyer
Publisher:
Feiwel & Friends
Release Date:
January 27th 2015
Summary from Goodreads:
In this stunning bridge book between Cress and Winter in the bestselling Lunar Chronicles, Queen Levana's story is finally told.

Mirror, mirror on the wall,
Who is the fairest of them all?

Fans of the Lunar Chronicles know Queen Levana as a ruler who uses her "glamour" to gain power. But long before she crossed paths with Cinder, Scarlet, and Cress, Levana lived a very different story – a story that has never been told . . . until now.

Marissa Meyer spins yet another unforgettable tale about love and war, deceit and death. This extraordinary book includes full-color art and an excerpt from Winter, the next book in the Lunar Chronicles series.
Review
Marissa Meyer is one truly talented author. Fairest was a fascinating glimpse into Queen Levana's character which can pretty much be summed in a simple phrase:
she is kinda crazy!
As I read, I would feel sorry for Levana then she would do something a couple chapters later that would just take away any sympathy I had for her. Levana's sister, Cinder's mom, has definitely changed in my eyes; not her biggest fan!
Fairest really allows the reader to get a glimpse of Levana's childhood; I was able to understand why she makes some of the choices she does. While I do not agree with a lot of her crazy train decisions, I can see her reasoning for making them. To have a deeper explanation of a villain really gives the character depth and makes her feel more real. Fairest also explains the dynamic between Winter and Levana which makes me so excited for the last book!
I did really enjoy the background story, the writing is fantastic, and the character history is a welcome addition to the series. The only reason it is not 5 stars was that it lacked just a bit of punch that the other books do. I felt like it was nice to have the history but it was merely just a longer short story. (That you should read!)